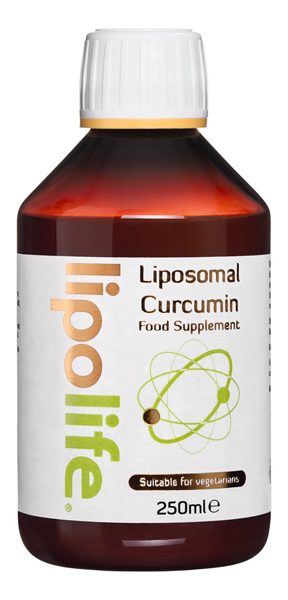 Curcumin C3 Complex bestaat uit 3 curcuma-bestanddelen: curcumine, demethoxycurcumine (DMC) en bismethoxycurcumine (BDMC).
Wordt snel en veel beter opgenomen.
Gemakkelijk in te nemen, zeer geschikt voor personen die moeite hebben om tabletten of capsules te slikken.
Curcuma ondersteunt het immuunsysteem (EFSA-ID 4009) en het hart (EFSA-ID 4010).
Goed voor de bloedcirculatie (EFSA-ID 4010) en de lever (EFSA-ID 4013) bij een minimale inname van 100 mg per dag.
Vrij van gelatine, gist, toegevoegde suikers en synthetische kleur-, geur- en smaakstoffen.
 
Per 5ml 
Curcumin (C3 Complex by Sabinsa) 
95% Curcuminoïden

170mg
Other ingredients
Phosphatidylcholine derived from non GMO soy lecithin, Water, Vitamin E (antioxidant), Potassium Sorbate (preservative), traces of Ethanol and Glycerol.
Geschikt voor vegetariërs en veganisten
Glutenvrij, zuivelvrij
Gebruiksaanwijzing
Schudden voor gebruik!
1 theelepel (5ml) innemen direct in de mond of in een glas water of vruchtensap, tenzij anders geadviseerd door uw zorg verlener.
De aanbevolen dagelijkse dosering niet overschrijden.
Bewaarvoorschrift
Koel en droog bewaren, na openen in de koelkast.
Na openen max. 3 maanden houdbaar in de koelkast.
Waarschuwingen
Dit supplement is mogelijk niet geschikt voor kinderen. Buiten bereik van kinderen bewaren. Een voedingssupplement is geen vervanging van een evenwichtige voeding. Overmatig gebruik kan een laxerend effect hebben.
Door de hoge biologische beschikbaarheid mogelijk gemaakt door de liposomale techniek, is een lagere dosering reeds voldoende, in vergelijking met curcuma in capsules. 
Merk: LipoLife  
Bevat GEEN : Gluten, Zuivel, Dierlijke producten.